Industry news
The Thames Tideway Tunnel Project – "Super Sewer"
19 June 2018

London's sewerage system is no longer fit for purpose and spills millions of tonnes of sewage into the tidal section of the Thames River every year.
Built in the 19th century when London's population was just two million, the system was designed for four million. Today, the Victorian sewerage network is struggling to serve the city with a population of over eight million people.
After years of study, Tideway proposed the Thames Tideway Tunnel, a new 25 kilometre interception, storage and transfer tunnel running up to 66 metres below the river, which will serve to clean up and reduce sewage overflows into the River Thames. The construction of the new overflow sewer will be carried out across 20 sites at an estimated cost of £4.2 billion and will employ nearly 4,000 people.
The Tideway Tunnel project, nicknamed the "super sewer", will see six, 800 tonne Tunnel Boring Machines (TBM) lowered in to the ground at three main 'drive sites', to drill and build the new overflow sewer.
HES Sales Limited are proud to be associated as a sub-contractor for one of the biggest infrastructure project undertaken by the UK water industry. We have supplied a number of Hi-Force TWS-N square drive type and TWH-N low profile female hexagon type hydraulic torque wrenches, HTWP hydraulic torque pumps, heavy duty impact sockets and hydraulic torque hoses in the form of a rental agreement, to allow the precise bolt tightening of the impressive Tunnel Boring Machines.

According to tradition, to keep tunnellers safe underground, a female name should be given to the machine before she sets off on her journey. Tideway shortlisted 17 inspirational women from London with links to the local area where their machines would begin tunneling works for the Thames Tideway Tunnel. The final six names voted for were; 'Selina' after Selina Fox (1871 – 1958), a pioneering doctor who set up Bermondsey Medical Mission for the poor and disadvantage residents (mainly women and children) in Bermondsey, 'Rachel' after Rachel Parsons (1885 – 1956), an engineer and advocate for women's employment rights who set up the first women-only engineering company in Fulham, 'Charlotte' after Charlotte Despard (1844 – 1939), a suffragist leader and political activist from Wandsworth, 'Millicent' after Dame Millicent Fawcett (1847 – 1929), a feminist, intellectual and political leader who lived in Battersea, 'Ursula' after Dr. Audrey 'Ursula' Smith (1915 – 1981), a British cryobiologist who discovered the use of glycerol to protect human red blood cells and 'Annie' named after Annie Scott Dill Russell (1868 –1947), the first female scientist to work at the Greenwich Observatory.
The main tunnelling work for this project began in 2016 and is estimated to complete by 2021, with system commissioning commencing 2022.
Hi-Force product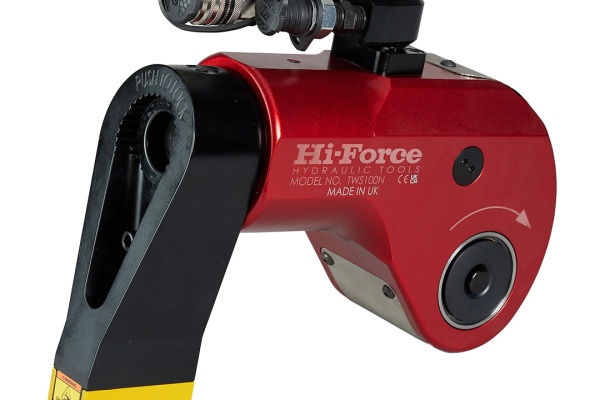 TWS-N Range
Hydraulic Torque Wrenches - Square drive